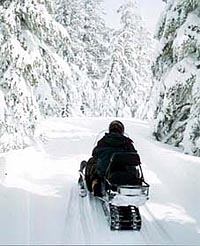 THE TNT PARK – The adventurous in spirit won't want to miss Deer Valley Resort's Tricks 'n' Turns (TNT) Terrain Park. Located off the Little Chief chairlift in Empire Canyon on the Ore Cart and Nugget runs, the Park offers entry level to advanced features, including single- and double-barrel rails, a few small jumps and fun boxes. The TNT Terrain Park is open daily and is included in the price of your lift ticket.
NASTAR – Deer Valley Resort now offers the excitement of NASTAR racing at its race course on Bald Mountain near the Silver Lake Lodge. Open daily from 10 a.m. to 3 p.m., during the winter season (weather permitting), NASTAR is the largest recreational ski race program in the world, developed by SKI magazine in 1968, and is available at over 120 of the nations premier resorts. This fun, competitive and easily accessible racing program allows racers of all ages and abilities a means to compare themselves with one another, regardless of when and where they race. This is accomplished by establishing the National Standard on each NASTAR course, and through a racer handicap system. Each time you race NASTAR, you could win a Platinum, Gold, Silver or Bronze medal based on the handicap you earn. For more information and on-site race registration, contact the Race Course start facility at 435-645-6876 or pre-register online at www.nastar.com.
GROUP RACES – Add excitement and camaraderie to your group's ski day with a private race. Choose from premium, private or semi-private packages in dual slalom, giant slalom and NASTAR formats. The Race Course is located on Bald Mountain in close proximity to the Silver Lake Lodge. Prices vary. Contact the Group Sales Office for details at 800-424-DEER (3337) or 435-645-6510, or via e-mail at sales@deervalley.com.
FIRST TRACKS – First Tracks is a program that provides pre-arranged, private, early lift access, guided skiing from 8 a.m. to 9 a.m. from the Wasatch Express chairlift. First Tracks is a groomed-run skiing tour and must be scheduled at least 10 days in advance. Intermediate skiing ability level is a minimum requirement. For additional information and pricing contact the Group Sales Office at 800-424-3337 or 435-645-6510, or via e-mail at sales@deervalley.com
SUMMIT MEADOWS ADVENTURES – The Deer Valley-operated Summit Meadows Adventures snowmobile tours take place on the Garff Ranch (a five-mile, ten-minute drive from Park City's Main Street, located on Brown's Canyon Road off Highway 248). Summit Meadows Adventures has access to 7,000 acres of pristine open lands on which to snowmobile. Forty-seven Deer Valley-owned Ski-Doo snowmobiles make up the tour fleet. For more information please click here or call 800-424-DEER (3337) or 435-649-1000. Guided tours use single or double capacity machines.
OTHER ACTIVITIES
Parties and banquets catered by Deer Valley's renowned Food and Beverage department
Photography and video services
Old-fashioned sleigh rides
Cross-country skiing: groomed-track skiing and back-country tours
Church services: Many faiths hold services in Park City. Deer Valley hosts a non-denominational service on Sundays at 2 p.m. and a Shabbat service on Fridays at 3 p.m. Both services are held in the Sunset Cabin
Snowshoeing in the dramatic back-country of the Wasatch and Uinta mountain ranges
Hot air ballooning
Heli-skiing
Historic Park City is alive with shopping, art galleries, theaters, bars and clubs
For more information on activities in Park City, please click here.
Related posts: